"Tell me and I forget, teach me and I remember, involve me and I learn." -- Ben Franklin


No laptops are allowed in Econ 1 lecture.
Tablets or tablet-PCs turned flat are ok.

Be sure you have no conflicts with the following:
Midterm #1,

Thursday, September 27

,

8-9:30 pm


Midterm #2,

Tuesday, November 6

,

8-9:30 pm


Final exam (slot #6, unique to Econ 1), Tuesday, December 11, 11:30-2:30

The final will take place in the RSF (Recreational Sports Facility) Field House, Tuesday, December 11, 11:30 am - 2:30 pm.

Directions to RSF Field House: The RSF Field House is located on the west end of the Recreational Sports Facility (on Bancroft Way).
Please enter through the exterior double doors that lead directly into the Field House from outside. See aerial view below.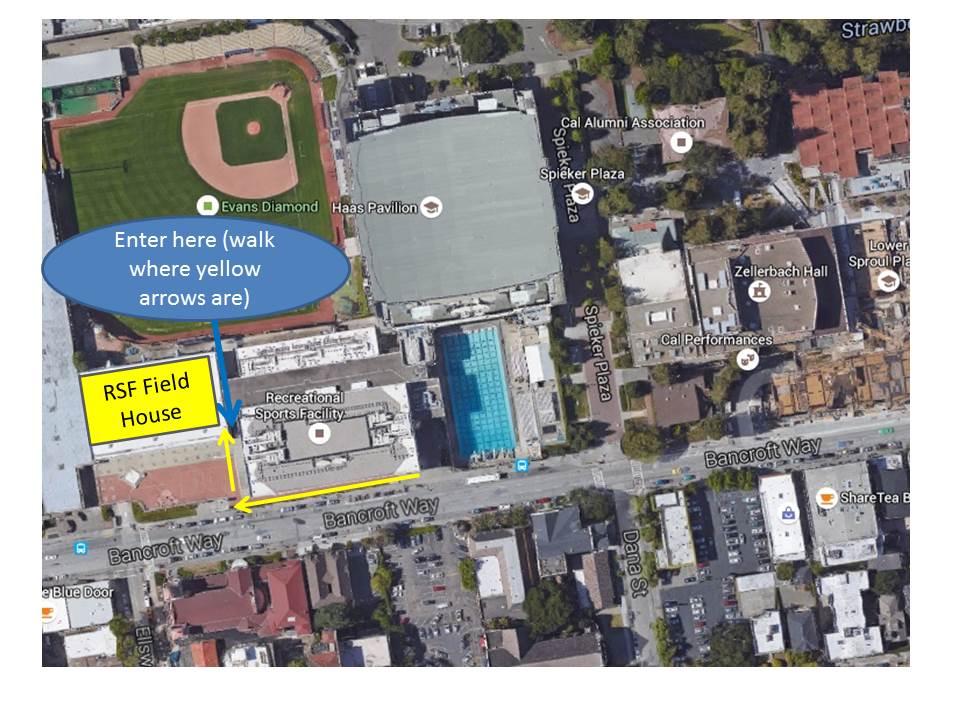 Piazza
is used for posting your questions (and answering your classmates' questions).
bCourses
is used for all other learning management tasks.
FAQ about

iClicker

for Econ 1
FAQ about Enrollment in Econ 1
---
Return to Martha Olney's Home Page
This page prepared by Professor Martha Olney

Last update 11/18/2018
University of California, Berkeley
Department of Economics
530 Evans Hall #3880
Berkeley CA 94720-3880
Olney office phone: 510-642-6083
Econ Dept fax: 510-642-6615